Best Bread Machine Under $100. Making bread manually at home is doable, but it takes more time, and sometimes the results are not as expected. Taking fresh bread at breakfast is everyone's wish.
To make bread at home, you need a good bread maker machine that saves you plenty of time. An ideal bread maker makes your kitchen look beautiful and offers you a variety of delicious bread.
With Bread makers, you can make loaves of different sizes with different colors. Bread makers also provide bread types from basic to French and from making a cake to pizza dough. An ideal bread maker comes with a delay timer, heat function, and multiple baking settings.
8 Best Bread Machine Under $100
1. Hamilton Beach Best Bread Machine
Hamilton Beach is a trustworthy brand of kitchen appliances, The Hamilton Beach Bread maker is one of the best products introduced by Hamilton beach.
It is the best bread maker machine for those who are on a budget, you can get a good one spending uner60 dollars. It has 12 cycles and gives you full control with a large digital display.
The budget-friendly bread maker gives you bread in three steps, add ingredients, select your cycles, and press the start button.
It is best known for making dough such as dinner rolls and much more. All the parts are made of quality material and are very easy to clean.
Hamilton Beach bread maker comes up with 2LB capacity and multiple features such as digital user control and programable 12-plus settings allowing you to get your favorite dietary things.
Pros
Budget-friendly (under 60 dollars)
Good quality material used
12 different cycles and programable settings
Gluten-free bread-making option
Masters you in easy homemade bread making
Convenient to use and clean
Dishwasher save parts
2-loaves size and 3-crust shades
Cons
2. Oster Expressbake best bread machine under $150
The Oster Expressbake Bread maker is famous for durability, versatility, and performance. The best bread machine can serve a large family with 2.0 pounds large capacity.
Oster bread maker helps you to start bread making the journey with its unique control panel. It is made of a good quality aluminum material, and parts are non-stick.
It comes up with a unique 13-hour timer so you can get fresh bread at home anytime.
The 12 bread settings make the homemade bread process easy and choosy for you. While the warm function keeps the loaf warm. LCD makes the navigation system easy.
Pros
Non-stick baking pan
LCD for easier navigation
Delay bake timer (13 hours)
Loaf warm function
Superb for entire family needs
3-crust settings and 12-bread settings
650-watt power
Offers to measuring cup, spoon, and kneading paddle
Cons
Gives a beeping signal when adding ingredients
3. Elite Gourmet best bread machine under $200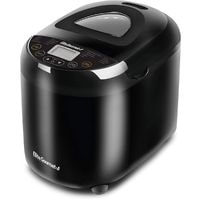 Bread making at home is never been so easier, automatic, and foolproof as it is with the Elite Gourmet Maxi-Matic bread maker machine.
Now consider making bread at home with 15 hours timer delay and 60-minutes warm function eliminating oven use and kitchen heating.
The unique style of the bread-making machine comes with three different loaf sizes and 19-programmed preset Manu settings.
The bread maker allows you to bake 19 different things from basic, white bread to even pizza dough with ease. It provides you the ease of making gluten-free bread at home.
The non-stick pan allows you to bake desired bread type without hesitation as it is easy to clean. It is not only designed for bread; you can make bread cake jam yogurt whatever you want.
Pros
Budget-friendly kitchen tool
Superb for making a variety of bread, jam, and cake
15 hours delay timer and 60-minute warm function
19 programmed preset settings
2-pound, 1.5 pounds, and 1 pound loaf size
The non-stick baking pan is easy to clean
Cons
4. COSORI best bread machine for beginners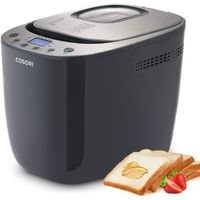 If you are looking for a perfect bread and dough maker in a short time? the gray-colored COSORI bread machine best matches your search.
It comes up with one original presets and the opportunity to select color between Light, Medium, and Dark.
It has a unique simple design and easy-to-use operating panel. It saves you money for buying gluten-free items by allowing you to prepare a gluten-free diet at home.
The eye-catching feature is its delay timer of 13 hours, put ingredients inside the bread maker before night, and getting fresh bread in the early morning.
The best bread maker machine can keep warm for up to 30 minutes. Unlike many other bread makers, it is tested and ETL listed and CA Prop 65 compliant.
Pros
12-preset settings
Superb in dough making
Excellent bread maker
Three color options (light, medium, dark)
Free COSORI chef recipe book
Non-sticky bake pan, measuring cup, kneading blade, and hook
550-watt power moto, 60Hz and 120voltage
Pre-tested and verified
Cons
It Can only make a common loaf size
5. Secura best bread machine for home use
Imagine the 3-loaf size and three different crust colors all these options are available in a single bread maker machine.
Secura bread maker machine has 19-preset Manu settings and allows you to make a variety of pizza, bread, dough cakes, and much more.
The best-for-money bread maker machine has 650-watt power and 2.2 pounds capacity. It has electricity disconnection memory for up to 15 minutes.
The programable LCD digital displays help in easy navigation, while ingredients reminder assists when to add ingredients.
Now taking fresh bread everyone is possible with a delay timer of 15 hours so you can set time and add ingredients.
Secura bread making machine has heating function, no need to turn on oven every time. It is made of durable stainless steel material.
Pros
Durable and versatile stainless steel made
19 preset Manu for easy cooking
View window allows you to monitor
LCD and digital displays make navigating easy
Light-medium and dark crust settings
1 1lb 1 7lb or 2 2lb dough sizes
15-hours delay timer and 1-hour heating function
Reminder when to add ingredients
You can make jam, fresh bread, pizza dough, and much more
Cons
Some consumers complain about sink and blade issues, but it is a rare chance
6. Aolier 14-in-1 Bread Machines

Aolier 14-in-1 bread machines give you the choice of enjoying up to 14 different delicious bread at home. You can bake pieces of bread of three-color light, medium and dark with two loaf sizes.
The delay timer and heating function make your every morning delightful with fresh bread.
It allows you to prepare 14 designs such as Loaf, Cake, Soft, Whole, Wheat, Sweet, Bread, Quick, Yogurt, and Jam.
Its detachable and non-sticky pan is super easy to clean. LCD and control panel make this bread machine automatic for bread making.
The perfect bread maker comes with a delay timer of 13 hours to serve you every morning with fresh bread, while the 60-minute heat preservation function delivers warm bread.
It has a large capacity of 2lb with three crust shades and 2-variable sizes. This bread-making machine is made of stainless steel and has a premium coating. The pan is  5-layers thickened and has a safe coating.
Pros
5-layered thickened safe coated pans.
The baking pan is non-sticky and removable.
14-preset programs
Delay timer of 13-hour with 60minut heat
10-minute power-off memory
Dishwasher safe and easy to clean
Navigation is easy with a Digital LCD
Cons
7. Sybo BM8501 Pro Bread Machine
Thinking of buying a durable stainless steel bread maker machine, here is the best one with 19 programable baking settings and variable loaf sizes to make your morning entertaining and full of nutrients.
It has a unique ceramic-made non-sticky pan which is exceptionally easy to clean and use. to serve you every morning with fresh bread it has a delay timer function (15-hour delay) and a warm heat feature of about 60 minutes. It has a large capacity of 2.2 lb and three different loaf sizes 1.1, 1.6, and 2.2 lb.
it has made navigation of controls easier with a digital control panel and has made the automatic bread-making procedure easier.
You can prepare different bread types from basic to French and make a cake to pizza dough all is possible with this versatile bread maker.
Pros
19-in programable settings
Easy control with digital control panel
Automatic bread-making function
Three sizes of the loaf with three different crust colors
Offers delay timer and heat function
A 15-hour delay time is perfect to get fresh bread
Superb in the making, of bread, cake, pizza dough, and much more
Durable and versatile stainless steel made
Ceramic non-stick pan
Comfortable control panel
Cons
The recipe is not translated well
8. Breadman TR2200C Best Bread Machine Under $100
Breadman is the most suitable machine as it has a power failure backup of 60 minutes, even if the power goes off it will resume from the last activity.
It has a powerful motor of 450 watts and easily delivers your desired results. The best bread maker in the market has three loaf sizes as follows 1,1.5 and 2 pounds respectively. The non-stick baking pan is quite easy to clean and reuse.
It looks beautiful on the countertop and is superb for making bread, cake, and much more.
It offers more than 100 (110) program settings for a variety of bread making. It offers a great delay time of 24 hours for your convenience.
Pros
110- program settings
450-watt power motor
Comes in three loaf sizes
3-crust colors
24-hour delay timer and 60 minutes of heat feature
Durable and best for money
Versatile parts
Easy to clean and convenient to use
Cons
Some consumers complain that the baking pan is thin and some about the price
Conclusion
Best Bread Machine Under $100. Are good for saving your time and providing you with fresh homemade bread. The above-given list is about the top 8 best bread makers available in the market.
These bread makers are superb in making gluten-free bread and jam, cake, and much more. The list is based on unbiased reviews and budget-friendly bread makers.
Things to consider before buying a bread maker
A bread maker is a machine that boosts bread making and gives fresh bread at home. You can enjoy delicious bread taste and color at home using a bread maker. Before buying a bread maker, you must know some important factors which are handy in choosing a good bread maker.
Loaf Size: loaf size in some cases is measured in terms of weight, most the bread makers have three loaves. Some bread makers usually mini/ compact bread makers offer only two loaf sizes. While buying a bread maker, check if it fulfills your expected need.
Shapes of Loaf: the shape of the loaf also matters, the bread makers offer different loaf shapes such as a rectangle.
Baking settings: most of the bread makers out in the market offer multiple baking settings, a good bread maker should offer multi-programmable or preset settings.
The delay timer and heat function: these are the plus point, a delay timer enables you to adjust time and add ingredients to get fresh bread the next morning. While the heating feature eliminates the need of heating your kitchen or turning on the oven every time.
Related Guides