Best blender for acai bowls. Acai bowls are the other source of a healthy diet. Getting the acai bowls from a famous chain takes money and time as well. What about preparing acai bowls at home.
Well, you can do this at home by using a good-quality blender. A good quality blender offers multiple speeds, a powerful motor, and various capacities to make your desired batch.
You can make the best acai bowl with frozen fruits and ice because cold ingredients will offer you thicker acai bowls. Blenders make your kitchen life easy and save you quality time.
There are various blenders available in the market, and choosing the right one for you could be a little intimidating (trying and figuring out a blender is difficult).
To make your blender hunting job easy, we have selected some blenders with the best reviews and capabilities. Explore the list and choose the desired one that suits best your needs and budget.
8 Best blender for acai bowls
1. Ninja Foodi SS101 best blender for acai bowls
Ninja Foodi ss101 is the best choice as a bowl maker and nutrient extractor and has stainless steel blades.
It has exceptional capabilities to work with heavy loads and thicky without bothering you with stirring and shaking. Its powerful 1200-peak watt motor blends easily different ingredients.
Its four preset IQ programs allow blending and extraction at a touch of a button. The unique blender is ideal for nut butter, smoothie bowl, and even ice cream.
The perfect tool for the kitchen comes with a 14-oz smoothy bowl maker and built-in temper that has enough power to blitz frozen foods.
This blender delivers perfectly thick smoothie bowls and nuts-butter etc. The 24-oz nutrient extraction cup gives you a good smoothie and frozen drinks. It weighs around 8.58 pounds and has dimensions of 15.2 x 14.2 x 6.4 inches.
Pros
Powerful motor (1200 watt) and hybrid edge blades
Occupies less space
Multi-functional device
Easy to clean blender (dishwasher-safe parts)
Has nutrient extractor cup and smoothie maker bowl
Best for making acai bowls
Stainless steel blades
Unique design (silver color)
Works perfectly (no need for stirring)
Cons
Generates a little bit of extra noise
2. Vitamix E310 best blender for acai bowl at home
Professional grade Vitamix E310 Explorian blender belongs to a well-known brand of blenders Vitamix and is made of Tritan material.
It comes with ten different processing speeds and a 48-oz container so you can prepare a smoothie bowl for all your family.
The built-in pulse option helps in stubborn blending, no need for stopping and shaking ingredients. It has a unique design with a slate color and adds a more beautiful look to your kitchen.
This blender comes up with professional-grade stainless steel blades and has enough power for blending the toughest ingredients. It delivers the same quality from 1st to last chopping /blending.
Its specially designed tempers allow you for easy blending and prevent scrapping down jug every time.  It can be used for various purposes like from hot soup to frozen treats and grinding nuts to smoothie juices everything you wish. It weighs around 11.50 lbs. and its dimensions are 11 x 8 x 17 inches respectively.
Pros
Self-cleaning (put hot water + dish soap and run at high speed)
Easy blending
48-oz container (prepares smoothie bowl for a small family)
compact and suits your kitchen
Ten variant blending speeds and pulse
Built-in temper for blending toughest ingredients
Durable stainless-steel blades
Cons
Fewer consumers complain about the design
Not ideal for large family needs
3. Vitamix A2500 best commercial blender for acai bowls
Vitamix A2500 Ascent Series Smart Blender has a 64-0z container and comes up with variable speed, pulse, and timer.
Preparing smoothies, hot soup, and frozen desserts are at the touch of a button. It has a nice capacity, and you can serve all family with a smoothies bowl.
It is one of the best blenders in terms of performance. Its versatile and high-performance motor is powerful enough to grind any ingredient easily.
It has a black color design and dimensions of 17 x 8 x 11 inches and weighs 11 pounds.
The Vitamix A2500 Ascent Series blender is equipped with self-detect technology that detects/recognizes the container size and adjusts program settings accordingly.
The digital timer and variable speeds help to fine-tune the texture of recipes. The laser-cut stainless steel blades, blend any toughest ingredient with greater strength. You can make anything that you can make with this kitchen appliance.
Pros
Smart blender (self-detect technology)
64-oz container
Three various program settings
Digital timer and pulse
Can grind nuts and frozen treats in second
Perfectly makes smoothies
Cons
It's a little bit expensive
4. Magic Bullet Blender, Small, Silver color
Magic Bullet Blender is a compact-sized silver color blender that is the best choice for personal use. It has a 120v power motor, which excellently blends and makes a smoothie for you.
The magic-blender is made of high-impact plastic. The budget-friendly blender comes with 11 different piece sets. It is small in size and takes less space.
The magic bullet blender can easily chop, mix, blend, grind and whip, and much more that you need. It is very easy to use, put ingredients and twist the cup on the blades, and put it on the power base.
Its recipe guide helps you to make delicious dishes very quickly and easily. The blender is very easy to clean. It has dimensions 4.01 x 4.48 x 11.61 inches and is very lightweight (3.8 pounds).
Pros
Compact blender and mixer
has multi-functional features
occupies very little space
equipped with an 11-piece set
durable and versatile
budget-friendly blender
Cons
5. Ninja Professional 72 Oz Countertop Blender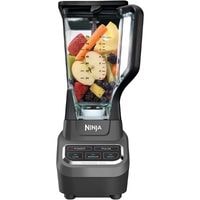 Ninja Professional 72 Oz Countertop Blender is a perfect choice for someone looking for a good blender that can perform other tasks.
It has a unique sleek design and a powerful motor (1000 watt) which have exceptional power to crush and blends the toughest ingredients.
Crushing ice and frozen fruits is a matter of seconds. It comes with 4-automatic and 4-manual program settings.
This blender comes with a 72-oz jar that has enough capacity to prepare a smoothie and creamy drinks for the entire family.
The durable crushing blades work perfectly to crush ice and frozen fruits, and any ingredient you want to blend. The winning feature of this blender is its large capacity and six-blade assembly crushes ingredients faster and smoother than other blenders.
Pros
Faster and smoother blending
4-manual and 4-automatic programs
Can serve the entire family's need
Precisely blends ice and other harder items
Better than other blenders
Sharp and versatile blades
Powerful crushing motor
Full fills other kitchen needs
Cons
6. Nutri Ninja Personal and Countertop Blender
For a smooth and faster blend, Nutri Ninja Personal and Countertop Blender come up with a 1200-watt power motor and pro-extractor blades.
It is equipped with Auto IQ technology that offers timed and intelligent blending programs to make your job easy. Get this convenient blender to your kitchen and enjoys easy blending.
The most demanding feature of this blender is its Xl 72-ounce blending jar that takes enough ingredients to serve your entire family.
The Nutri ninja pro extractor blades have enough crunching power to pulverize fruits and ice and make creamy frozen drinks. Its small, jumbo and regular multi-serve nutria cups allow you to customize and craft various recipes.
Pros
Superb for serving an entire family need
Has different nutrient cups (small, regular, jumbo)
2hp professional motor (1200 watt)
Auto IQ technology enabled
3-automatic and 5-manual programs
advanced blades for crushing ice (hard items)
durable and versatile blender
Cons
Some consumers complain about plastic quality and warranty
7. Blendtec Total Classic Original Blender
Blendtec total classic original blender review comes with 10 various manual speeds and pulse, and saves you quality time by blending frozen fruits, ice, and toughest ingredients in seconds.
The 4-side structure of the jar guides ingredients towards blades rather than the sides of the jar. The self-cleaning feature saves you time, but warm water and dish soap to get better cleaning results.
The best quality blender comes up with stainless steel forged blades (with wings) and gives ten times faster and smoother blending compared with other blenders.
The professional-grade motor has enough power to operate and grind frozen fruits, ice, and other items to prepare smoothies, salsa, and other delicious recipes.
Pros
10-operating speeds and pulse
Greater grip
4-side perfect structure of jar
Self-cleaning option for your convenience
Smoother and faster blending compared to other blenders
Professional-grade power motor
Cons
The lid is a little bit tricky to close
8. Ninja BL770 Mega Kitchen best blender for acai bowls
Ninja BL770 mega kitchen system and blender come with a total crushing pitcher, a durable food processor bowl, and a powerful motor of 1500 watts.
It has an excellent  8-cups food processor that assists in chopping and dough making. The versatile two 16-ounce cup nutrient cup helps you in preparing a personalized nutrient cup. It is price-worthy and saves you precious time kitchen.
All the parts are made of BPA-free elements and are dishwasher safe (you can wash/clean them in the dishwasher).
The best idea is to clean with warm water and soap and blend it for seconds. The 1500-watt power motor has enough power to crush/blend any frozen fruit and other items.
Pros
Has good quality 72-oz pitcher
durable dough blades
makes perfect smoothies
frozen fruits drinks and ice-crushing features
has a food processor bowl
powerful 1500-watt motor
faster and perfect food blending
Cons
Limited warranty of the product
FAQS 
Can you use a blender to make smoothies?
Smoothies are made using a blender; the reason is that ice cubes need to be crushed to make thicker smoothies. Blenders have enough power capabilities, and different capacities and save you quality time.
How to make acai bowls thicker?
Acai bowls can be made thicker by using frozen fruits (bananas and blueberries). The other important factor is using chilled fruit juices. Using cold ingredients will result in a thicker-acai bowl.
How to choose a blender for smoothies?
While buying a blender for smoothies, you should consider the following factors. The motor should be powerful enough (500 to 1000 watts). It should have sharp and durable blending blades and different working speeds. The blender must have a pulse.
Related Guides